A Very Personal Note: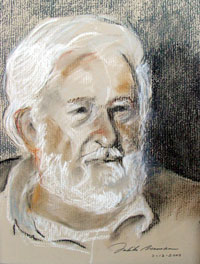 Portrait of Robert Beeman* by Toshiko Beeman, ©Robert Beeman, 2001.
Finally, there will be those that will say that parts of this website are an ego trip. Well, I'll have you know that humility is one of my most outstanding traits <[;-)> ! Actually, they probably are somewhat right. However, what better place than a personal, "Private" website for telling one's own story? England's Airgun World magazine, announced on page 72 of its July 2000 issue, along with a bit of other misinformation, that " 'America's 'Airgun King', the late Dr. Bob Beeman, sadly died last year". There is some other misinformation and rumor rattling about. And I vividly learned, during our decades of research on the Lewis & Clark and Girandoni airguns, that historical records really become very cloudy, even rather quickly. So back from the grave, I would at least like to lay out the facts while I still can. And who better to tell this story than the main actor himself? So asking your indulgence; I'm going to tell our story as best I can. If you care to look, we hope that you will find our historical information of interest.
The best way to start in getting a perspective on the development of the adult airgun market in America and Beeman Precision Airguns is to click on these three links to other parts of this website: 1. Lifetime Achievement Award. 2. Adult Airguns in America. 3. Beeman Predecesors? The Lifetime Achievement Award article by Bill Bridgewater includes a fairly good biography of Robert Beeman.
Please be sure to see Tom Gaylord's and Steve Fjestad's notes. Click these blue under-lined names to open those pages.
*AKA "Baron Wolfgang von Windbüchsen" (P.S. "Windbüchsen" is an obsolete German term for airguns.)
Disclaimer
We must make it very clear that although we are the founders of Beeman Precision Airguns, we sold that business in April 1993 to S/R Industries of Maryland (who also own Marksman Airguns). This website is not connected to, nor authorized by, nor sponsored in any way by, the present ownership or operation of that firm. We receive absolutely no profit from any sales or service activity of that firm and not involved in their operation, which is a day's travel away from us. This is the PRIVATE website of Robert and Toshiko Beeman in Northern California and only they are privately responsible for its content and activity. Beeman® is a registered trademark owned by Beeman Precision Airguns, a division of S/R Industries. We use the name Beeman here only as our private family name or in neutral reference to products or information related to Beeman Precision Airguns. The PUBLIC website of Beeman Precision Airguns in Huntington Beach in Southern California is at www.Beeman.com .
All material in this website is presented for informational purposes only. Use and understanding of this material is completely the responsibility of the reader. The Beemans are not responsible for misprints, incorrect transmission or reproduction, nor the accuracy of any material within this website. We reserve the right to modify any of this material in any way at any time. New material will always supersede previous material.
Copyright Information
Among the U.S. trademarks owned by Beeman Precision Airguns, in the appropriate product categories, are: Beeman, Laser, Bearcub, Blue Ribbon, Metal-2-Metal, and Cro-Magnum*.
Unless otherwise noted, all text and images in this website were created by, and are the property of, Robert D. Beeman. Such text and images are protected by copyright to Robert D. Beeman. Except for use of brief passages used for review purposes only, reproduction by any means is forbidden without the advance, written permission of Robert D. Beeman. All reproduction of text and images must credit Robert Beeman. Metalophilic, Airgunology, and Airgunologist are words coined by Robert Beeman.
*The actual trademark is "Cro-Magnum", but not enough people understood the joke of an escaped biologist, so we had to market it as "Crow Magnum". (Even some of the Beeman employees also didn't understand the humor of being given Darwin's Birthday as a holiday. Of course, it also just happens to be Presidents' Day.)
Finally, just a much overlooked quote for folks who were wondering if the founding fathers, the men who wrote the Bill of Rights, meant the Second Amendment to guarantee the right of individuals, or only a governmental national guard, to be armed:

"The constitution of the United States asserts that all power is inherent in the people, that they may exercise it by themselves, that it is their right and duty to be at all times armed!"
Thomas Jefferson