Short History of Beeman and the American Adult Airgun Market
A Brief Biography of Robert Beeman and An Insight into the Development of the Adult Airgun Market in the United States.
Those Thrilling Days of Yesteryear?
29 Dec. 2004
<![if !vml]>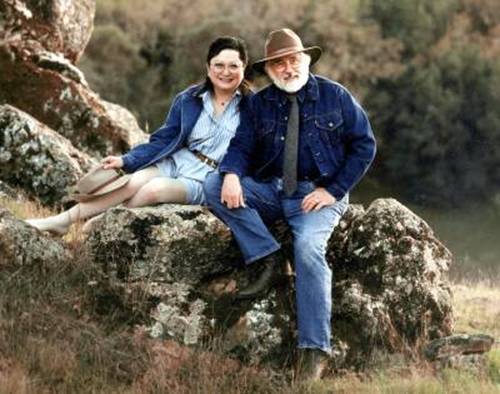 <![endif]>
Robert and Toshiko Beeman relax on a favorite rock outcropping on their California ranch.
"Return with us now to those thrilling days of yesteryear!" While that may have been a great theme to introduce the Lone Ranger program on old time radio, yesteryear really wasn't very thrilling for the adult airgun market in America. Even if we only return to about 1970, we find a startling contrast with today.
There were no airgun magazines; even in England, there were no Airgun World or Airgunner magazines. Daystate had not even been founded and thus had not yet developed the first modern PCP airguns. In America also, there were no airgun periodicals, no airgun forums, and no airgun shows. Airgun Field Target shooting was unknown and the NRA didn't even have an Airgun Committee. Not only were there no national airgun standards, there wasn't even a Non-Powder Gun Products Association to develop them. One of the only serious collectors of airguns was the late Charter Harrison, who, as may be the fate of serious airgun collectors, ended up dying in a mental institution. AirSoft guns had not yet been invented and paintballing was restricted to a few forest rangers who may have splatted the backside of a fellow tree-marker. To be sure, Crosman, Benjamin, and a few others, had been producing some pretty potent airguns, many of which were promoted for hunting and pest control, and had been trying for decades to develop interest among adults, but the reality was that the overwhelming majority of those "fairly powerful" airguns were used by youths. Adult airgunning just was not any sort of significant market.

Something happened during those three decades to give rise to a thriving adult airgun market in America. Steve Fjestad, head honcho at Blue Book Publications, is somehow convinced that Robert and Toshiko Beeman had a major hand in this development and has asked me to record something about this matter. By no means was he suggesting that the Beemans were the cause of all this, but rather that they were a significant catalyst in the development of the field.
I (Robert) feel rather diffident about writing about ourselves, and an outside viewer may have a clearer view, so I am just going to update and edit the well done paper by the late Bill Bridgewater, then president of the National Alliance of Stocking Gun Dealers.
The original of the following edited article, "Dr. Robert Beeman Selected to Receive Lifetime Achievement Award
for Extraordinary Contributions to the Shooting Sports Industry" by Bill Bridgewater, appeared January 1993: pp. 5-14 in the Alliance Voice.9(1). The following copy is adapted from copy requested by the Blue Book of Airguns, Edition Five.

(The Press Democrat newspaper in Santa Rosa, California announced on March 4, 1993 that "Robert Beeman, founder of Beeman Precision Airguns in Santa Rosa, was presented the 1992 Lifetime Achievement Award by the National Alliance of Stocking Gun Dealers. Beeman was hailed as the 'Father of the Adult Airgun Market of the United States.' Beeman, and his wife, Toshiko, founded this company in 1972 in their home in San Anselmo. After building it into a multi-million dollar operation that sells airguns in 50 countries, they moved the firm to
Santa Rosa in 1986.")

Cover of Lifetime Award Issue, Jan. 1993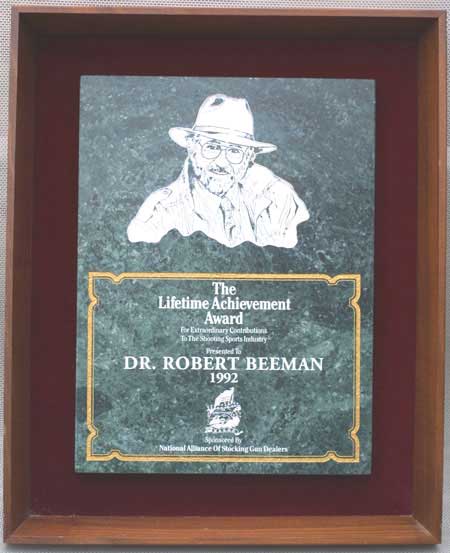 Engraved marble award plaque
Robert's interest in airguns started well over one-half century ago when, as an eight year old, he received a Daisy Model 25 BB gun as a birthday gift.
While teaching college in Southern California, Robert was selected by the National Science Foundation from a group of two U.S. science teachers from each state nominated as "most outstanding science teachers" to receive full support for study towards doctorate degrees of science. He elected to go to Stanford University. He remembers this as a particularly fascinating part of his life because it ranged from a sailing ship scientific expedition in the South Pacific to radioactive cell marking to electron microscopy. After receiving his Ph.D. in 1966, he took a position as a professor at San Francisco State University where he helped organize, and became the first chairman of, that University's Department of Marine Biology. His scientific career included the publication of many technical articles and books, published all over the world. His specialty was the Aplysid mollusks. Less than a dozen other scientists, including Emperor Hirohito of Japan, were authorities on this group. Robert's Japanese in-laws were duly impressed to think that someone in their family actually corresponded with the Emperor (through the Grand Chamberlain, of course!).
Beeman's interest in airguns was unabated. Responding to a small classified ad in a gun magazine, Robert obtained several fine European spring piston airguns from Bob Law, an airgun hobbyist in West Virginia who had started a small mail-order business called Air Rifle Headquarters. These guns renewed his interest in airguns.
The Beemans soon discovered that virtually all of the true adult airguns of this century have been made in Europe. Therefore, in 1972, Dr. and Mrs. Beeman visited the four leading European airgun makers: Weihrauch, Feinwerkbau, and Dianawerk in West Germany, and Webley and Scott in England. The European airgun factory owners all lamented that they felt that there had never been a truly successful introduction of true adult airguns into the United States.
They simply could not understand why. Some shipments had been brought in by

a few U.S. gun companies

, and more recently, very limited numbers had been imported by Air Rifle Headquarters. However, none of these attempts had been followed by a substantial flow of orders. Although "adult airguns" had been known in the United States even before the advent of the large bore airgun carried by the Lewis and Clark Expedition in 1802-06, and although there was a small surge of "gallery" airguns after the Civil War, there really wasn't a significant adult airgun market in the United States prior to 1972. Little did the Beemans realize that rather soon that their firm would be importing adult airguns into the U.S. at over one hundred times the peak volume of Air Rifle Headquarters and would end up selling over 100 million dollars worth of adult airgun products.
In 1974, the Beemans had determined that over 99% of American shooters had never even heard of such guns. Almost all gun dealers told them that the only airguns that they knew of were domestic BB and pellet guns and that there "wasn't any demand for anything else". The basic problem seemed to be that the only significant attempts to introduce these guns had been through major American gun companies who introduced them at the distributor/jobber level. It was clear to the Beemans that the problem had several facets and was going to need several new approaches. It wasn't just that the U.S. market was almost completely unaware of these guns and their makers. If that had been all there was to the problem, the Beemans' job would have been far simpler. What overshadowed that lack of knowledge was that most U.S. shooters and dealers already had a very clear image of airguns, and that image was of domestic BB and pellet guns. Use of such guns then was almost completely restricted to youth. Shooters couldn't conceive of paying as much, even more, for an airgun as for a firearm. Dealers didn't want to stock them because "nobody would buy a 'BB gun' that costs that much, and besides, I don't want kids hanging around my shop." So, the sale of airguns in the USA largely was restricted to youth-oriented domestic airguns sold by chain stores and discount houses.
All of the right ingredients came together for the development of the American adult airgun market about 1975. Products had reached a good level of development in Europe, the U.S. market evidently was ready, and Robert and Toshiko Beeman seem to have been just the right people, with the right background and the right approach, to finally make "adult airgunning" emerge in the United States as a significant, commercial success. What the market was ready for was Beeman's information-intense approach about excellent and intriguing products, direct to consumers, rather than through the conventional chain of distribution. The Beemans' background of academic communication on one hand and marketing experience on the other seems to have been the ideal catalyst. Robert Beeman "wrote the book" on the subject for that period and circumvented their original lack of promotion funds by a blitz of ready-to-publish material for gun magazine editors and others involved in public information - even those as "far out" as the "Whole Earth Manual", "Mother Earth News", "Soldier of Fortune", and "Survival" magazine.
It was natural for Dr. Beeman to draw on his decades of experience as a technical writer and science professor to start what amounted to an educational writing campaign. Editors always need articles and illustrations, so he started writing articles about adult airguns, providing ready-made color photographs for gun magazine covers, preparing the first Airgun Digest book, stimulating gun writers to write about adult airguns, and producing Beeman's own national airgun newsletters and a catalog. And that certainly wasn't "just a catalog'! The Beeman "catalog" intentionally was big and technical; really an educational introduction and guide. At that time, a simple catalog of these special airguns would not have meant much. Most of the readers literally would not have understood the products.
Very early, the Beemans decided on a strategy of applying a single, "American" name, Beeman, to several products whose names were not only unfamiliar, but hard for Americans to pronounce. This gave coherent identity to the products. Beeman created a snowballing support by means of a deliberate program to develop the Beeman name as synonymous with quality and uniqueness in adult airguns. The simultaneous development of high quality, new Beeman products was always linked with a program to make these matters news and of interest throughout the industry and gun-oriented organizations. Between 1975 and 1993, Beeman products appeared on more gun magazine covers than products of any other airgun company; even more than those of most firearm companies. This continuing drive led to a continuing growth of sales.
The strategy of developing deep market penetration of the Beeman brand as synonymous with quality was extremely successful. An extensive dealer survey revealed that 95% of dealers felt that Beeman's adult airguns were the best in the market; 99% said that the Beeman Precision Airgun Catalog/Guide was excellent, the best of its kind. Ninety percent expressed satisfaction with doing business with Beeman. The Beeman company maintained that national lead of having only the very best production airguns on the market until 1993 when they sold the business. (They restricted their sales to stocking gun dealers and would not even promote or sell "economy models" to chain stores, such as Wal-Mart, K-Mart, Cabellas, Big 5, etc. or mail-order outfits, until the sale of the business. Guns listing under about $150 retail made up less than 5% of their volume and they didn't even have plastic rifle stocks or cheap scopes.) Quite a development for an "escaped professor" who claims that he "didn't know anything about business"!
Although Beeman started as retail mail order, they quickly realized that the only way to volume and real growth was through wholesale sales. To that end and to break the "Catch 22" logjam of dealers not buying such products because they were convinced that there was no demand for them, they started a program to turn their thousands of mail order customers into salesmen to the dealers! That is, even though Beeman then had virtually no dealers, the Beeman newsletter started to direct consumers to ask for special sale prices on Beeman guns "at their local Beeman dealer". They also set up a nationwide network of about 40 sales representatives to call on dealers in all 50 states.
Most of the dealers probably didn't pay much attention to it when they got their first inquiry. However, when several real live customers, virtually with money in hand, had asked for Beeman products, their interest was up! About the same time, the Beemans saw to it that the mail brought each dealer a Beeman Dealer Newsletter and their big catalog/guide. The arrival of the Beeman Sales Rep, with Beeman guns in hand, sale priced and sold on a guaranteed sale basis (they only ever received three guns back as unsold!) coincided with this. They followed this with large displays of Beeman products at the national trade shows. At that time, Beeman was the only one displaying such products, thus they were very newsworthy for the media and drew the curiosity of many dealers, particularly those who had already been hit with that one-two-three punch. After two or three years of dealer development, Beeman used almost the same approach to develop the jobbers. That is, they announced specials to the dealers which were "available through your local jobber". Jobbers who had never heard of these products suddenly started to receive calls from dealers who wished to purchase Beeman products. Then the newly-created Beeman Jobber Newsletter started arriving, followed by the Beeman Sales Representative in person, backed up by a newly-expanded Beeman telemarketing program direct from Beeman's headquarters in California.
Of course, well before this had gone very far, Robert had to retire from his position at the university and ask Mrs. Beeman to leave her position as a buyer in a major department store to come and work with him and the small Beeman staff. At first, she was not convinced there was enough for her to do. When Beeman's staff hit 50 persons and the sales were several million dollars per year, this complaint was not heard again! As Beeman grew, the U.S. firms that had not been able to get imported airguns into the mainstream of the American gun market withdrew or dropped away. Beeman bought out the final airgun inventories of Winchester, Harrington and Richardson, HyScore, and Air Rifle Headquarters. Over 95% of the airguns above the toy level from Germany and England were being imported by Beeman. Webley & Scott, Weihrauch, Westinger and Altenburger (FWB), Norica, and the makers of H&N and Silver Jet/Jet pellets all assigned exclusive American distribution contracts to the Beeman company. Westinger and Altenburger even assigned Beeman the American ownership of the Feinwerkbau trademark and name.
The Beemans knew that if they were successful in creating a large scale interest in adult airguns among American shooters and gun dealers that eventually they would create competition. Beeman's strategy was to take the position of leadership in the production of regular production adult airguns, to obtain deep and high quality penetration of the market with the Beeman name, and to continue to grow as the market grew. By the time they retired in 1993, although they then had attracted several competitors, Beeman's imports of adult English and German airguns was still greater than any other U.S. company. The Beeman name had became synonymous with quality, even a generic term to many, meaning "high quality, adult airgun". Perhaps not quite as generic as Kleenex or Xerox, but a real factor! "Just like a Beeman" was rarely true, but it was one of the key lines of salesmen selling competing products and an unintended acknowledgment of Beeman's market leading position.
Robert Beeman has written and produced over 200 airgun publications, manuals, etc. It may well be that the depth of this coverage is unmatched throughout the world's gun market.
While the size of Beeman's early orders only justified the production of regular models with special specifications, Robert was soon developing specifications and design ideas for new adult airguns that would be uniquely suited to the demanding American market. He was surprised to find that apparently all of the spring piston airguns previously on the market had been developed empirically. That is, the guns were designed and built with very limited theoretical considerations and then tested to determine their performance. Beeman jumped forward by utilizing the field's first computer simulations. These simulations, varying one factor of the gun after another, and then in various permutations of each other, quickly did what it would have taken 50 or 100 or even more experimental prototypes to accomplish. In effect, the Beemans could see, via these simulations, what various design permutations should cause in the way of performance. The result was virtually an entirely new gun, of what was then an entirely new power range. The development included the production of the first American-styled adult air rifle stock. This was interactively designed by Robert Beeman and Gary Goudy, one of America's top custom stock makers.
An automatic safety, to protect the gun from "bear trap" damage also was incorporated. The sum result was the Beeman R1 "magnum" adult air rifle. Introduced in 1981, it

broke all previous sales records for adult airguns

.
<![if !vml]>

<![endif]>
Beeman R1 Magnum Air Rifle – 20th Anniversary Commemorative Model
Many adult airgun experts still feel that the Beeman R1 is the standard by which all other magnum air rifles are judged. Incredibly accurate, tough, uncomplicated, needing only pellets to shoot for years, the Beeman R1 became all the air rifle that most hunters would ever need. Tom Gaylord, one of America's leading airgun writers, enthused that "the Beeman R1 is the rifle that brought America fully into the world of adult airguns
".
Until recently, airguns traditionally had only been produced in .177" and .22" calibers. One of Beeman's main accomplishments was to produce the first full line of precision .20" and .25" caliber airguns and pellets and actually create the first commercial success of these calibers in adult airguns. The .20" caliber served as a perfect compromise between the .177" and .22" calibers and soon became Beeman's biggest seller for sporting use. The .25" caliber proved to be the only bore that could efficiently handle the air flow of their most powerful air rifles.
<![if !vml]>
<![endif]>
Beeman P1 Prototypes I and II – When Beeman Precision Airguns was designing the Beeman P1 air pistols, the Weihrauch Factory in Mellrichstadt, Germany sent prototype I (upper item). This functioning prototype followed the Beeman specifications but not the styling. So the Beemans made this exact scale plaster model (Prototype II, lower item). Look carefully, it is an extremely fragile item, hand-carved from a block of Plaster of Paris and finished with black shoe polish. Only the grips and rear sight are real! The production Beeman P1 and later, the HW 45 (its overseas copy), followed this model exactly. Courtesy of Beeman Collection.
The most thoroughly Beeman gun of all is the Beeman P1 magnum air pistol. Beeman produced the first design drawings of this gun in 1981, and produced their own detailed model of the P1 in their plant in 1983. The first production appeared in early 1985. Beeman had designed the P1 to fit a market gap for a high power, spring piston sporting air pistol. It was an immediate success, and went on to set adult air pistol standards and records. One of the first prototypes of the P1 was a single stroke pneumatic. This version was later developed as the Beeman P2 Match Pistol.
Fine pellets have always been one of the mainstays of the Beeman business. The Beeman Silver Jet, a unique pointed pellet with multiple sealing rings, which they introduced in 1973, and sold in especially handsome silver foil, Beeman-designed boxes, color-coded for caliber, was the leading precision field pellet for many years.
At first, Beeman labeled established designs of pellets, specifying only certain quality control and specification levels. (Makers privately admitted that they resold pellet lots, which Beeman wouldn't accept, to other markets.) Again, it shortly became apparent that Beeman's sales volume and the special needs of this growing market justified the production of special Beeman pellet designs. Their first airgun pellet design, the world's first hollow point pellet, was the Beeman Silver Bear. While still selling well, the Silver Bear hollow point was increasingly upstaged by another Beeman development, a heavy, "big mouth" hollow point pellet amusingly trademarked the "Crow Magnum"!
Beeman also developed several scopes especially suited for adult airguns. Originally, gun makers thought of airgun scopes as cheap, small tube instruments. Beeman moved way up to top grade 1" tube scopes with reticles resistant to the two-way snap of spring-piston airguns, quick adjustment elevation and windage knobs, and introduced the concept of using objective focus rings, with settings as close as five meters (16'), on lower power scopes specifically built for their American airgun customers. These generally are credited with being the first true adult airgun scopes.
A rather surprising product story resulted from Beeman's development of their famous Short Scopes: the Beeman SS- 1, SS-2 and SS-3. The short, incredibly precise optical column of these scopes had been computer-designed at great cost for another, unrelated optical purpose. Beeman had this optical arrangement built into a super tough scope form by one of Japan's leading optical companies. These scopes combined the concept of using lenses of camera quality, rather than binocular quality, in a short, rugged optical column. It was originally planned that these would be ideal for adult airguns, compact and proof against the unusual, sharp two-way snap of the spring piston mechanism. Although the Beeman SS scopes were very well received for that purpose, they were also very successful on semi- and full automatic assault rifles and sub-machine guns. When such guns were equipped with Beeman SS scopes, they could go from high firepower to almost sniper level accuracy just by switching the gun to semi-automatic. When the Beemans first produced these scopes, they didn't dream that they would be so popular with SWAT and anti-terrorist teams and military and police groups around the world!
The Beemans promoted their products not only by trade shows, shooting event displays, and hundreds of display ads in virtually all of America's sporting publications, but also in their own publications; mail and dealer counter versions of the Beeman Shooter News, Beeman Dealer News, Beeman Jobber News, Dollar Notes to Beeman Reps, scores of Beeman Technical Bulletins, and, of course, the world-famous Beeman Precision Airgun Guide. These were produced by their own in-house ad agency, DavKan Associates. (A name derived from Robert's and Tosh's middle names: David and Kanzaki.) DavKan's fully professional staff, and their illustration and typesetting equipment, would have been the envy of many outside advertising agencies.
The impact of the Beeman newsletters and other publications, reaching hundreds of thousands of the world's airgunners, was astonishingly impressive. Some market experts credit this continuing effort as being the key factor in developing the American adult airgun market from almost zero to its present position.
Sometimes progress came in a sudden unexpected jolt. At one of the big IWA gun trade shows in Nürnberg, Germany in the early 1980s, the Dynamit Nobel/Diana/RWS folks invited the Beemans into their booth's backroom – thanked them for developing the "impossible USA market" and announced that they would now "shoot Beeman out of the water" with prices which Beeman could not afford to meet. The Beemans were pretty worried when they returned home and wondered what to do. Robert felt that there was only one answer – and it was based on the fact that the guns which he had designed and Weihrauch was producing to their very tight design and spec controls – really were better than the other airguns. So, instead of an answering volley in a futile price cutting war, they announced a 10% increase in prices and launched a new quality awareness program – based on a "Tap the Cap" theme - referring to tapping the solid, beautifully-machined, steel rear receiver block of the Beeman rifles (see a Beeman R1) vs. the thin sheet metal receiver cap on the competitors' sporters. The Beeman sales soared and they kept the majority of the market until it had grown many fold and then were content with 55% of the much greater total market –before they sold the company! The route of raising prices was completely unexpected by the DN folks, and one of their top men later quipped that it was "unfair"! Robert declared that "he cried all the way to the bank".
Robert's role in the establishment of airgun standards is a key part of the Beeman legacy. Early in the 1970s, the main American airgun makers formed the Non-Powder Gun Products Committee to work with ASTM and the Consumer Products Safety Commission to develop safety standards for airguns in America. This was an excellent move to pre-empt legislators and governmental clerks from establishing inappropriate standards. While the standards were to be voluntary, they would have the force of law because they would become industry and government approved guidelines for all airgun legislation and liability lawsuits. Robert was one of the first members and stayed almost two decades to become their vice-president and longest term member. While he thoroughly approved of the group's basic objectives, he saw the potential for major problems if standards aimed at American made, youth-oriented airguns conflicted with the needs and guns of adult airgunners. In addition to decades of helping the committee, Robert created a lasting benefit to the adult airgun market by creating special categories and exemptions for adult airguns, match and training airguns, custom made airguns, tranquilizer and scientific purpose airguns, paintball guns, etc.. He literally left his mark by adding the word "death" to required warnings and establishing international marks, to be stamped on the gun instead of English words, to indicate if it was designed for pellets, darts, lead shot, and/or steel shot.
Biographical Sketch of Robert and Toshiko Beeman
Robert and his wife, Toshiko, form a very close partnership, both from a personal and business standpoint. Many people are amazed to find a husband and wife who worked in close harmony in the same hard-driving business. Robert served as the President with the role of directing the business, writing copy for the Beeman catalog and a constant flow of technical bulletins and articles, plus directing marketing and financing, while Tosh served as Senior Vice President and General Manager, running the operation on a day-to-day basis. While Robert also directed research and development, Mrs. Beeman also was a key member of the Beeman overseas factory design teams which have been responsible for the development of so many advanced airgun products. Together they served as a very strong product development and negotiation team in their travels throughout the world. Robert's academic background in research methods and in German, French, Spanish, Italian and Latin was helpful, and Tosh's fluency in Japanese was invaluable. Both are avid shooters and gun collectors, and their hands-on experience with both airguns and firearms in the shop and field has been crucial to the development of airguns and other gun products.
Robert and Tosh have enjoyed many hours together in other activities such as backpacking, fishing, photography, world travel, etc. One of their special shared joys is the Beeman vintage and antique airgun collection, the largest such collection in the world, covering thousands of different airguns from all over the world from the early 1700's to the present time. Together, for over 30 years, they studied antique airguns as the guests of arms museums and leading collectors all over the world. Understanding the history of airguns, and gathering specimens and information in several languages, was an interest bordering on an obsession.
Robert and Tosh's interests and ability to work together also extended to some other large projects. Together, with their own hands, they built their own home in the beautiful wooded hills of Marin County, California, and then did much of the construction work when they moved the Beeman Precision Airgun business from their home to a commercial area near the shores of San Francisco Bay. After expanding into five adjacent warehouses there, they realized they should have their own facility. Robert's building experience and study qualified him to pass the examination for a California General Builders Contracting License. So, in addition to running the rather large Beeman gun business, he was the general contractor for the construction of their new home on a ranch in the California wine country and the 25,000 square foot Beeman Building in Santa Rosa, California.
Well before the move to Santa Rosa, the Beemans hired Keith Faulkner, then President of the world famous, venerable gun firm of Webley & Scott in Birmingham, England, a mechanical engineer and expert in spring piston airguns, to be a Vice President of the Beeman Company. The combination of Dr. Beeman, with his scientific, airgun, and marketing background, and Keith Faulkner's engineering, was very productive. However, Mr. Faulkner was to enjoy the beautiful view from his new office in Santa Rosa only for a short time. He passed away due to an incredibly rare bone marrow disease in December 1986.
Dr. and Mrs. Beeman developed very close relationships with the top staff and family owners of key European airgun and pellet factories and Japanese optic and pellet factories. Although these relationships grew from the amazement of these companies as to the growth and volume of Beeman sales, they became not only true friendships but smoothly working teams to mutually develop new products.
Robert Beeman firmly believes that not only are adult airguns one of the few growing and healthy profit centers in the shooting market, but that airguns may well be the salvation of the shooting sports! Most potential and inactive shooters are now urban or suburban. Their opportunities for shooting firearms have been greatly curtailed due to urbanization, legislation, social changes, and fewer places to shoot lethal weapons. However, these very factors work to the advantage of airgunners; airguns may be shot in suburban, and even indoor, locations without heroic measures to contain bullets and with no air pollution problem. And, airguns continue to be far freer from oppressive legislation. One of the few ways remaining for persons to become introduced, or re-introduced, to the pleasure of shooting is via airguns. It has been shown again and again that such new, or renewed, interest in shooting leads to purchases, not only of airguns but to purchases and greater recreational use of firearms. Without an influx of new shooters into the market, ownership of sporting guns will dwindle and the Second Amendment eventually will become of academic interest only!
More and more gun and sporting goods dealers are seeing the "handwriting on the wall" concerning the future of firearm sales. This future has already happened in Europe where most recreational shooting by adults is now done with airguns like Beeman's models. Thousands of dealers who would not have considered airguns, especially adult airguns, as part of their product mix just a few years ago now consider adult airguns an essential part of their inventory. Some of Beeman's best dealers report that they have made a major section of "adult airguns" in their stores, even going so far as to make these guns a feature area at the expense of their sluggishly selling long firearms or hunting clothing.
Robert Beeman feels that adult airguns are in a "win-win" position. If the shooting sports increase, adult airgunning will increase as a now accepted part of those sports. If firearms are subject to greater restrictions of purchase and use, people will turn (as they did in Europe) to airgunning for the pleasures of shooting. He is emphatic that the long-term trend for the adult airgun market can only lead up for the very long foreseeable future, and that most gun dealers who survive the next decade will indeed develop adult airgun centers. Robert should be proud of his key role in the development of what is now a key part of the U.S. shooting market.
The Alliance is proud to present its prestigious Lifetime Achievement Award to Dr. Robert Beeman.
Post-script: The Beemans sold Beeman Precision Airguns to S/R Industries on April 1, 1993. S/R moved the business, including most of the former employees, to Huntington Beach,
California
to be close to Marksman Products, another of their holdings. Robert and Toshiko retired to their cattle ranch in the wine country of California and have become so immersed in world travel, art, airgun research, and work on the Blue Book of Airguns that they wonder how they ever had time for running a business – a business which many credit with being critical to the development of the adult airgun market in the United States. As the Beemans entered their well-deserved retirement, promoting the concept of adult airguns no longer seemed to be a matter of pushing that mythical big rock up the hill!
Click on these authors' names, Steve Fjestad, Robert Hunnicutt, and especially Tom Gaylord, for further information.