Please note: PayPal charges us for transferring your money so please add 3.5% to your total if you use this wonderfully fast, secure system.
Other Beeman collectibles: decals, stickers, metal hang tags, more belt buckles, more patches, giant pellet, barn wood painting, wood-burning art, T-shirts, Robert's 007 shirt, etc.


Original Beeman Precision Airguns Belt Buckle
Click on pic for better view
201.Beeman Belt Buckle, the Original Beeman Brass Belt Buckle. We recently found a few of these, literally only a small handful, in their original plastic sleeves. Mint condition, perfect bright brass finish. About 2.8" (7cm) long and 5mm thick; made of solid brass. Deep relief letters and a nice 3D image of Boswell. Numbered and signed on the back by Robert Beeman with diamond scribe. Numbered, the signed version will be limited to 25 pieces total. We tried out several belt buckle designs; this was always my clear favorite. So tough that one of our friends has been wearing one daily for over twenty five years and it hardly shows any wear. Produced only in 1980. A really rare item now. $45.00 (+$2.50 S/H)


Beeman Brass Dress Belt Buckle
Click on pic for better view
202. Beeman Dress Buckle, the "formal" version of our solid brass belt buckle. Suitable for wearing with khakis or dress slacks. Measures 1.5" x 2.4". Sharp, raised brass design on a dark textured background; very good looking, extremely tough. Only produced in 1982. Only a handful available now. Numbered and signed on the back by Robert Beeman with a diamond scribe. The numbered, signed version was limited to 25 pieces total. Extremely rare. $45.00 (+$2.50 S/H)

Beeman Glazed Mug
Click on pic for better view
203. Beeman Glazed Mug, never given as a promotional item, this mug was always a limited production item. Beeman logo, address, and notice of sales and Beeman Airgun Museum permanently fire glazed into hard ceramic finish. Very sharp and neat text and graphics. From a set of seven used by Robert and Tosh Beeman; we are keeping one mug for the Beeman Museum. Like new. $25 each (+$4.50 S/H).


Beeman Black Mug
Click on pic for better view
204. Beeman Black Mug, Beautifully fire glazed with a glossy black finish with the Beeman logo, string of different Beeman pellet pics, and address permanently fire glazed in a sharply contrasting white. I believe that this is the only specimen of a Beeman black mug. $35.00 (+4.50 S/H)..



Beeman 20th Anniversary Pin (at left)
Beeman Logo Pin (at right)
Click on pic for better view

205. Beeman 20 Year Anniversary Pin. Handsome little featuring genuine cloisonné enamel work separated by thin strips of metal. Identical buttons were inset into the stocks of the Beeman 20th anniversary air rifles. These buttons are fitted with a tie tack mechanism on the back for attachment to any fabric such as a tie, shirt, hat, etc. About dime size (0.6"). Only one run of these buttons was produced in one month in 1992 and only about 25 of those were fitted with pins for wearing. Extremely rare. $12.50 (+$1.50 S/H).
206. Beeman Logo Pins. Very high quality, baked enamel rendition of the Beeman logo. Pin on back for fastening to cloth. Round, .75" (19 mm). Very scarce. $6.95 (+$1.00 S/H).


Beeman 25th Anniversary Truck
Click on pic for better view.
208. Beeman 25th Anniversary Commemorative Truck . A wonderful little 1:34 Ertl scale model of a Hawkeye delivery truck, presented to Robert and Tosh Beeman in honor of the Beeman company's 25th Anniversary. 7.8"L x 3.3:H. NOT FOR SALE. (Only a very limited number were produced. Some may still be available as Cat. No. 7925 at the new Beeman company in Huntington Beach. Or make an offer to a Beeman employee to buy theirs.)


Beeman Airgun Center Sign
Click on pic for better view
209. Beeman Airgun Center Sign. A really handsome Plexiglas sign with painted back showing "Adult Airgun Center" ,a stylized row of pellet outlines, and the original Beeman Airgun logo (note that the letter spacing and coloring generated by our former staff artist, Warren Lee, is much more attractive than the computer spaced letters, and computer generated color, in the latest Beeman logos). This sign is made of heavy clear plastic - the blue which is visible in the above photo is the color on which the sign was photographed - actually the sign is clear in those areas. 11" x 14". Wonderful display item. Rare. $35.00 + $7.50 S/H.
209.1. Beeman Five Star Dealer Sign. Beautifully made, just like the above sign except much larger (12" x 20.5") and featuring five big gold stars running across the sign and the lettering Beeman Adult Airgun Dealer. Extremely rare. $75.00 +$9.50 S/H).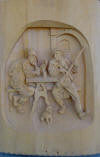 "The Air Rifle" Wood Carving
Click on the picture to see the ball-reservoir on the proud hunter's air rifle!
210. "The Air Rifle" Wood Carving. Two old-time German hunters discuss an air-rifle. A wonderful wood carving custom made for the wall of the Beeman Airgun Museum, in the early 1970's, by Wilhelm Steffl, an extremely gifted Holzschnitzer ("wood carver") in Ettal, a tiny town on the German Alpine Road near the Austrian border. It took awhile to explain that we wanted the carving to show a ball-reservoir airgun but the carving clearly shows that we finally were in perfect communication. 24" high. NOT FOR SALE!


Boswell Patch
Click on the pic to see the details
211. Boswell Shoulder Patch. Our first, and by far our rarest, shoulder patch. Only 50 of these embroidered patches, featuring Boswell climbing thru a Beeman "B" were ever made. Produced only in 1977 (see page 78 of Beeman Catalog Edition 5). (Note the former company name with an apostrophe S). Probably only a handful, at most, still exist, we have only one fine specimen in the Beeman Airgun Collection. It is NOT FOR SALE, but we do have just one used specimen removed from one of our airgunsmiths' shop aprons. $35.00 + 1.95 S/H). SOLD